3 Automated Equipment Solutions That Can Help You Cope with a Skilled Worker Shortage

Metalworking operations aren't struggling to find work these days, thanks to a strong economy and a healthy construction market. Unfortunately, the dwindling number of highly skilled workers with deep industry knowledge poses a more serious problem that must be dealt with to ensure that productivity keeps pace with demand.
According to industrial supply company Grainger, 59% of metalworking firms are having difficulty finding and retaining qualified employees, and 45% are struggling with competency levels in their workforce. The physical demands of some industrial production positions make it increasingly challenging for older employees to remain in the job market as they approach retirement age. So, they exit the workforce and create vacancies. Although younger entrants into these fields may accept lower pay, that cost savings often comes with a comparative lack of experience that many production operations find unacceptable.
Additionally, there is an outdated perception that metalworking operations are dark, dirty and dangerous. This can make it difficult to attract younger hands-on machinists, CNC machine operators, toolmakers, industrial electricians and other multi-skilled employees. In reality, automation and computerized manufacturing have eliminated many factory jobs that had required brawn in favor of positions that demand a more sophisticated skill set.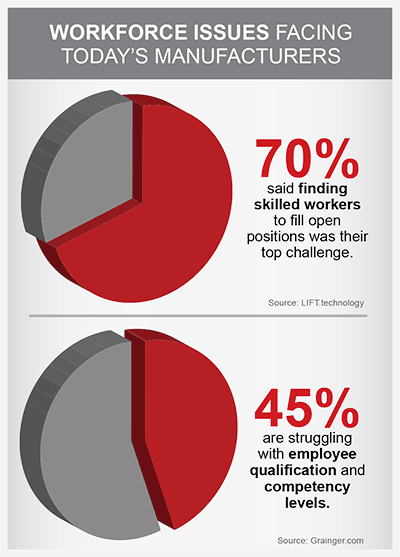 The development of apprenticeship programs and partnerships with colleges and trade schools is one strategy some manufacturers have adopted to address these problems. Increased wages for highly skilled candidates and community outreach and networking initiatives are some other options that have been deployed to help alleviate the problem.
Another sensible and proactive approach to maintaining productivity levels without having to replace or hire more workers involves automating as many plant processes as needed to get the job done.
---
Automation and the Path to Profitability
PRAB scrap handling systems, fluid recycling equipment and industrial water and wastewater treatment solutions offer automation opportunities that not only address the staffing issue but offer other advantages that can directly benefit your bottom line.
PRAB offers several options for managing the transportation of metal scrap and spent fluids from the point of production through load-out with a minimal amount of employee involvement. Steel belt conveyors, drag conveyors and in-floor trough conveyors in particular can significantly reduce the manual handling of waste material as well as the need to staff an operation with forklift truck operators. This equipment can help eliminate one of the most physically strenuous tasks in a metalworking operation while improving the overall safety of the workplace. Both outcomes can contribute to employee attraction and retention efforts while lowering labor-related costs.
---
Automating the process of reducing turnings and bushy wads of metal scrap to flowable, shovel-grade chips while also separating scrap from fluid improves productivity by freeing up workers to focus on production and throughput. Chip processing systems also reduce the potential for dangerous contact with sharp metal material, minimize environmental risks and position an operation to receive maximum value from scrap metal recycling and reusing spent coolant. PRAB vertical axis crushers, for example, maximize labor allocation by providing continuous, positive feed operation and automatically removing occasional solids to prevent equipment damage.
---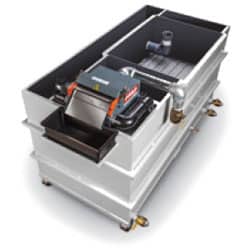 PRAB tramp oil separators automatically remove free-floating and mechanically dispersed tramp oils, bacteria, slime, inverted emulsions and more from individual machine sumps, central systems and wash tanks. This equipment eliminates the need to have employees manually vacuum oil from the rinse tanks and is capable of reducing tramp oil to less than 1% in a single pass. Additional benefits include reducing new fluid purchase costs up to 75% and reducing hazardous waste volumes up to 90%.
---
Read our white paper to learn more about how PRAB can help you balance your workforce and productivity needs through automated scrap and chip processing, fluid recycling, conveying systems and more. You can maintain the integrity and safety of your workflow systems without compromising throughput by removing the human element at every possible turn. This strategy isn't meant to put people out of work unnecessarily; it's meant to retain the highly qualified employees you need to keep your operation running smoothly while minimizing the impact of a shrinking workforce.
Ineffective processes that are labor-intensive and require constant attention can only inhibit an operation as business continues to ramp up, consistent with industry predictions. PRAB's experienced equipment specialists will help you address productivity demands in an environment where highly-skilled workers are becoming harder and harder to find.