Proactively prevent component failures, major repairs and unplanned downtime.
Initial inspection puts you back on track. Your PRAB equipment was robustly engineered to run trouble-free for years. But you must properly maintain it to reap the savings – and it's too easy to fall behind. To keep maintenance on track, start with a top-to-bottom inspection of your PRAB equipment. One of our skilled technicians will conduct the 4-8 hour inspection. You'll get a detailed report with early warnings of part wear and/or impending component failures. We'll also evaluate your maintenance program and provide a 30-minute consultation so you can learn how to make cost saving improvements.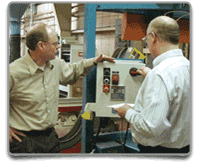 Customized Managed Maintenance Program (MMP) minimizes "surprise" expenses.
Included in your initial inspection will be a no-obligation MMP based on the level of maintenance assistance you want:
Regularly scheduled equipment inspections by a PRAB technician
Shared maintenance responsibilities between PRAB and your staff
Full maintenance performed by PRAB
All three levels will improve your machine uptime, reliability, performance and longevity. And that's how you'll keep saving year after year.
Your initial inspection includes:
Maintenance baseline for your PRAB equipment.
Detailed inspection report pinpointing maintenance/repair needs.
One-on-one consultation on how to maximize equipment longevity.
No-obligation MMP to safeguard your equipment investment.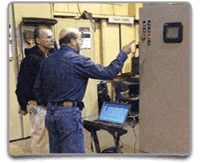 Exclusive Savings
When you sign on for the PRAB MMP:
Save 10% on PRAB service call rates.
Save 10% on list price of all MMP-covered parts purchases.
Download the Managed Maintenance Program Brochure
To learn more ways to save with MMP or to schedule an inspection, contact us today.