Feasibility Study No. 256/13
Waste Typology: Oil emulsion from diesel engine manufacturing. Sample named Multan B 204 (Henkel).
Results (PC F-AA, PC F-AA with Yield< 88%)
In the laboratory evaporation test, a distillation yield of 93% was reached, meaning the waste was concentrated 14 times. Normally, productivity will decrease according to the rise in boiling point. This value was strictly correlated to solution characteristics. The presence of volatile organic substances may have involved the development of incondensable vapors and may have caused problems to the vacuum system. During the distillation process, the liquid produced a moderate foam. It was necessary to check the foam to avoid dragging in the distillate.
Materials
The waste was slightly alkaline and contained a small amount of chlorides. To guarantee good corrosion resistance, the austenitic steels of the AISI 316 series must be used for the parts exposed to the waste.
Evaporator Type According to:
the analytical results of the supplied sample,
the production of scaling phenomena,
the viscosity of the solution under evaporation,
the production of foam,
the boiling point rise, and;
the characteristics of the distillate correlated to the evaporation temperature,
PRAB recommends using a vacuum evaporator with a SCRAPING SYSTEM, powered by a heat pump.
It is also possible to use other installation types (forced circulation with a SHELL-AND-TUBE HEAT EXCHANGER, immersed coil heat exchanger, or plate heat exchanger, etc.) powered by steam/hot water or by thermocompression.
These options require redefining the following parameters:
variation of concentration factor
variation of man hours used for maintenance and plant stop
variation of operating costs
possible additional pre- or post-treatment of solution
change of distillate characteristics
By working with lower concentration factors (distillation yield lower than 88%), it is possible to use a vacuum evaporator with a SHELL-AND-TUBE HEAT EXCHANGER, powered by a heat pump.
Chemical Analysis No. 256/13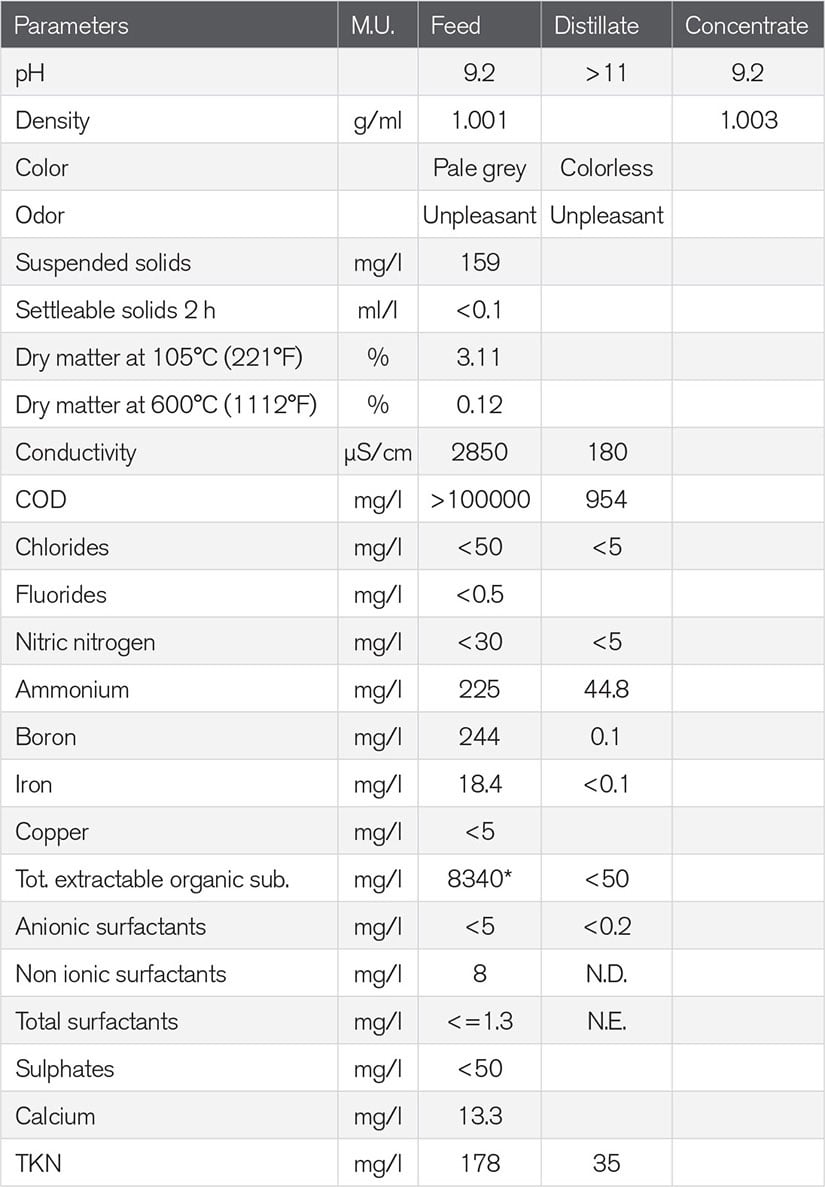 Waste Typology: Water from surface treatment with potassium ferrocyanide.
NOTE: The distillate and the concentrate were obtained by vacuum evaporating the waste.
*Indicative value for the nature of the sample. The recommended yield for a SHELL-AND-TUBE HEAT EXCHANGER (Type PC F) is 85-88%. The recommended yield for a scraped heat exchanger evaporator (Type PC R) is: 92-94%