Product Brochure: PRAB Pneumatic Conveyor
---
No Plant Air Required
Highly Flexible Layout Capabilities for Maximized Floor Space
PRAB Pneumatic Conveyors offer operation and installation flexibility. This conveyor is designed to pick-up wet or dry scrap directly from CNC machining centers and transports it to a central chip processing system or load-out container. This type of tubular conveyance allows for installation near the ceiling or in tight spaces which provides minimal floor space for operation, and allows for easy reconfiguration when modifying plant space.
System Features and Benefits:
Frees up valuable floor space
Secure, clean transfer of material from point of generation to destination
Improves plant safety
Eliminates fork lift traffic
Highly flexible layout capabilities, for locating both over head or in tight spaces
Allows for easy reconfiguration when modifying plant space
Can be engineered with multiple pick-up points
No plant air required for operation
Pneumatic system moves chips from multiple shop CNC machining centers to a central chip processing location
---
No Plant Air Required
Air Transfer Options:
Systems are available in both positive pressure and vacuum conveyor models- depending on the application.
Positive Air Blower System
PRAB chip fan transports dry chips up to 250 ft (76 m) or more
Positive displacement blower or PD pump can be fed by rotary air locks or educators for multiple chip inputs and long distances
Cyclone receivers reduce chip velocity when conveyed through the system
Available in abrasion-resistant steel or manganese (for severe-duty) liners
Automatic swivel or single discharge chutes
Negative Pressure Vacuum System
Vacuum blower transports wet or dry chips with multiple pick-up points to central chip processing location
Hardened bends and filter/cyclone receivers
Nickel-plated and abrasion-resistant wear items
Cyclone receivers reduce chip processing velocity as they are conveyed through the system
Available in abrasion-resistant steel or manganese (for severe-duty) liners
Automatic swivel or single discharge chutes
Pneumatic system feeds hopper to chip system and transports chips to outside silo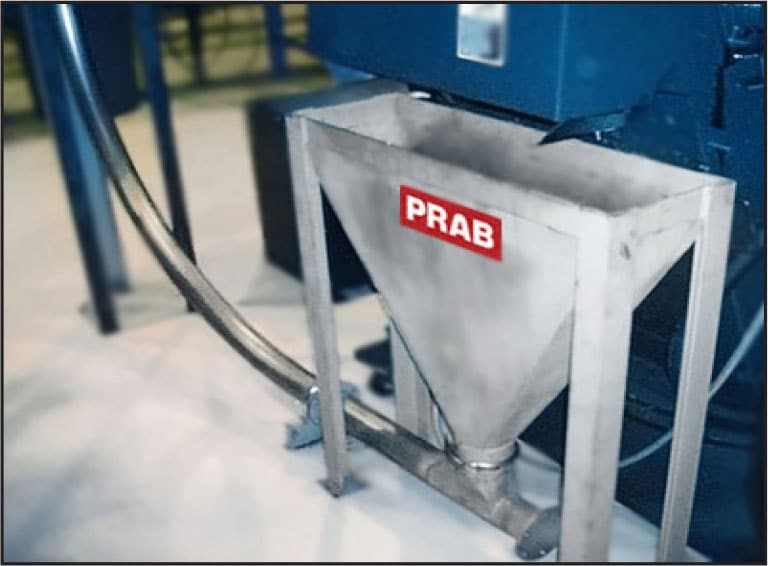 Typical chips and coolant inlet receiver hopper from CNC machine
Pneumatic system discharge to semitrailers