Wastewater treatment is an increasingly critical topic that has been discussed at the highest levels of government and major corporations. To find a sustainable approach, companies can employ many different strategies to help go beyond mere compliance and begin the process of positively impacting global water quality.
According to the 2017 United Nations World Water Development Report, more than 80% of all the wastewater from industry, homes, cities and agriculture is released to the environment without adequate treatment. This process repeats every day, polluting the environment while losing valuable nutrients and other recoverable materials in the process.
Insufficient Incentive
Compliance with ever-tightening federal regulations for wastewater treatment, handling and disposal requires plant management to be focused on their wastewater issue. There are additional regulations at state and local levels that companies must adhere to as well.
These days, promoting a "green" operation by putting a priority on environmental awareness and sustainable operations will translate to happy workers, loyal customers and satisfied investors. However, ultimate motivator is almost always related to cost. In a report from Canada's Ecofiscal Commission, the organization stresses the importance of putting a price on environmental risk in order to make disasters less likely. From a policy perspective, managing risk means getting incentives right. Manufacturers already want to avoid disasters and environmental damage, given costs to their reputation and their bottom line. But those incentives can often be insufficient.

According to the commission, gaps in existing policies mean that manufacturers are not always held fully accountable. These gaps can shift risk—and any related costs of environmental damage—away from manufacturers and onto taxpayers. When manufacturers do not bear the full cost of potential environmental damage, they have less incentive to reduce risk.
Better financial assurance policies—such as cash deposits, insurance, and industry funds—address this problem by putting a price on environmental risk. They create incentives for manufacturers to reduce risk and ensure that taxpayers do not end up bearing the costs of environmental damage, should those unlikely disasters occur.
From a Monetary Standpoint
From a monetary standpoint, it makes complete sense for companies to adopt a formal wastewater treatment and reuse policy. Such a policy allows them to significantly cut rising operational costs while increasing profitability. Disposing wastewater is expensive. Companies must pay for handling, trucking and treatment by their local Publicly Operated Treatment Works (POTW). Adding to the expense is the cost of clean water required to replace the initial volume.
The goal should always be to recycle and reuse fluids internally. Having a fluid recycling process in place means when the time comes to dispose of wastewater, companies will have a lower volume to discard, or a concentrated stream they can treat themselves for lower cost handling at the POTW.
At the heart of any system is the right treatment equipment. For companies that are concerned about the impact their wastewater has on both the environment and their bottom line, there are a variety of options available for process water, incoming water, and wastewater — each designed to perform specific types of treatment and deliver a quick return on investment (ROI).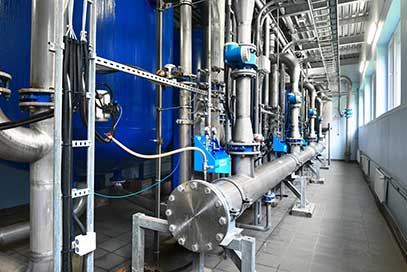 Solutions
Manufacturing companies across all industrial sectors are prioritizing the reduction of water consumption and wastewater produced, in order to become more environmentally responsible while also increasing profitability.
These operations can address water and wastewater treatment with any number of existing, efficient and effective systems. While it certainly makes business sense to implement such a process, it can appear to be a daunting task for metalworking operations that are unfamiliar with the treatment and re-use of in-house wastewater. Manufacturers can employ many different strategies to help themselves go beyond mere compliance and begin the process of positively affecting water quality. This can simultaneously bolster their brand, ROI and bottom line.
For more information regarding PRAB, please visit prab.com or contact us.
---