When choosing the right conveyor to manage metal scrap, maintenance and technology should heavily influence the decision—to increase the conveyor life and reduce maintenance issues.
One of these maintenance issues is belt tension. From the time of installation, the belt stretches the longer it runs, creating slack and wear issues. Typically belts also must be visually checked for wear and slack calls for take-up and overlooking belt take-up is a common mistake that leads to maintenance issues. The frequency of checks and inspections depends on run time.
Adaptive Programming
Adaptive programming can use motor-load parameters to determine
predictive maintenance
, and in some cases, external sensing can be deployed to determine conditions for this predictive maintenance. Newer technology enables the conveyor to monitor itself, and if it sees something like an amp spike, it will stop and employ torque tools to make a correction without stopping production. When this happens, the system shuts off the conveyor's forward operation, runs in reverse for a short distance, and then travels forward again. Once back to forward operation, if the amp draw remains at normal levels, normal operation continues. If the amp draws climb again, the system stops.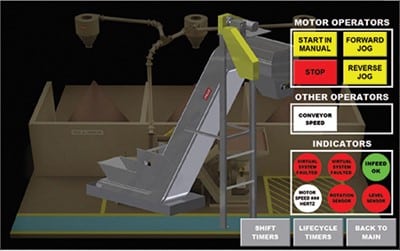 Smart Programming
In addition to adaptive programming is smart-programming. Smart-programming can provide scheduled maintenance alerts and diagnostic-fault programming can make corrections without human intervention. These alerts can also be offered as email or text notifications for system conditions that the metalworking operation would like to monitor.
Lubrication
Another consideration is maintenance involved in the lubrication of bearings and rollers. Advanced lubricants are recommended which dry as microfilm after application. Some conveyors however include the option of an auto lube system which is designed to automatically supply a small quantity of clean grease or oil to bearings on a regular basis. This improves the bearing performance and eliminates maintenance required for manual greasing.
Conclusion
These are just a few of the maintenance and technology considerations that should be made when selecting the right metal scrap conveyor for the metalworking process. To get a more thorough view of what can be done to optimize uptime with a new conveyor we recommend contacting a conveyor specialist to review your process, application, and most importantly your goals to find the solution that is best for your operation.
To learn more about reducing conveyor maintenance in the engineering and design phase, you may like to read our technical brief: 'Critical Design Elements for Maximizing the Life of Under Press Steel Belt Conveyors.'

For more information regarding PRAB, please visit prab.com or contact us.