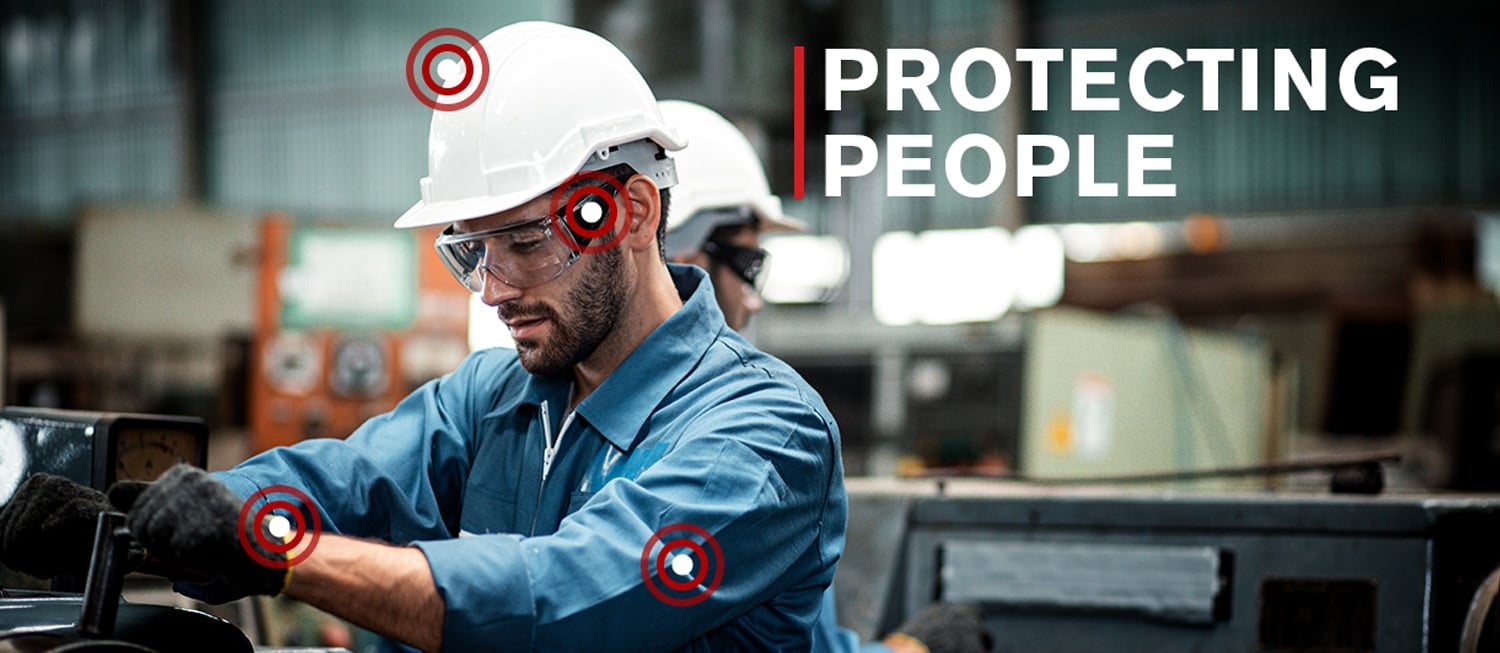 Note: The information contained in this article is provided courtesy of MCR Safety. Select data has been updated to reflect recent statistics.
There are 4.5 million reported injuries in the metal manufacturing industry each year in the United States. Data compiled by the Occupational Safety and Health Association (OSHA) shows that the number of metalworking injuries, per 100 people, is higher than all private industry and construction:
| Calendar Year | Private Industry Average | Construction Industry Average | Fabricated Metal Average |
| --- | --- | --- | --- |
| 2016 | 1.6 | 1.9 | 2.2 |
| 2017 | 1.5 | 1.8 | 2.2 |
| 2018 | 1.6 | 1.8 | 2.2 |
| 2019 | 1.5 | 1.7 | 2.1 |
| 2020 | 1.7 | 1.6 | 2.1 |
Data pulled from U.S. Bureau of Labor Statistics
With on-the-job hazards including unguarded machinery, sharp metal, toxic chemicals, and dust, there are dozens of ways to sustain an injury. That being said, here are the top five ways metalworkers are most likely to be injured:
1. Material Handling Injuries
More than 47,000 metal fabrication laborers move materials manually, exposing their hands to numerous hazards. At some point, every machine shop worker, assembler, fabricator, and welder will have to handle materials—mostly metal. Common examples of material handling in metal fabrication include:
Unloading and loading metalwork pieces can easily scrape up a worker's hands.
Small parts handling and metal can injure ligaments, muscles, and tendons in the hand. Metals can be oily and extremely sharp.
There are more than 130,000 sheet metal workers in the U.S. handling large sheets of metal.
Gloves are a necessity for metalworkers who handle materials. To learn more about gear that protects workers handling sheet metal, check out MCR Safety's sheet metal industry page. For more information on manual material handling, reference the Centers for Disease Control and Prevention's ergonomic guidelines and checklist (PDF).
2. Cuts and Abrasions
Sharp metal materials, tools used in metalworking, and razor-sharp sheet metal edges will slice up a worker's hands in a flash. Gloves provide critical protection against these dangers.
When choosing hand and arm protection, look for an appropriate ANSI rating for cuts, abrasions, or punctures to protect workers from unique materials and hazards.
Worn by countless metalworkers, MCR Safety's 9178NFO offers protection from sharp metal. Shortly after being introduced in early 2015, MCR Safety's Orange Kevlar was awarded ISHN's Choice Award for most innovative PPE.
3. Eye Injuries
More than 2,000 eye injuries occur every day in the United States. In the metalworking industry, eye injuries are caused by flying metal fragments, projectiles, dust, and other debris kicked up by machinery. Other causes include chemical splashes and objects that fall, swing or that are pushed into the eye.
Fortunately, 90% of eye injuries can be prevented by wearing the appropriate eye protection. Choosing safety glasses or goggles that suit the particular hazards of your environment can prevent a painful injury or even blindness. Check out MCR Safety's eyewear protection page to learn more.
4. Repetitive Strain Injuries
When we think of metalworking, it's easy to think of more acute injuries like serious cuts and amputations. But some of the most common injuries don't occur all at once, they develop over time. Repetitive strain injuries usually affect the joints of people who regularly perform tasks involving lifting, force, vibrations, and awkward positions, all of which are common in metalworking.
Examples of repetitive strain injuries include carpal tunnel syndrome, tendinitis, bursitis, and rotator cuff syndrome. The pain and reduced range of motion from repetitive strain injuries can cause workers to lose time or even become permanently unable to return to their former line of work.
Prevent repetitive strain injuries by maintaining good posture, regularly varying how you do your work, resting when needed, and making sure you have sufficient physical conditioning to do the work with relative ease.
5. Burns
Exposure to hot metal is all too common for the 56,000 workers assembling and fabricating in the structural metal manufacturing sub-industry. Workers move a lot of metal around job sites—often metal that has been cooking under the hot sun. Machine parts, equipment, sheet metal, and metalwork pieces quickly get hot. Sheet metal is subject to thermal conduction, increasing in temperature around sources of heat.
To determine the protection needed for workers handling hot objects, consider the following:
Weight of the object
Dexterity required
Handling time
MCR Safety's accredited ISO 17025 ITC lab regularly tests gloves for conductive heat resistance, in accordance with the ANSI/ISEA 105:16 standard and the ASTM F1060-08 test method.
Testing allows MCR Safety to classify glove performance based on the contact (surface) temperature at which both the time-to-second degree burn is equal to or greater than 15 seconds, and the alarm time is greater than 4 seconds. Free heat testing is available for any gloves a user would like tested.
For reference, here are the results of testing three of MCR Safety's top-selling cut-resistant gloves:
About MCR Safety
For more than 40 years, MCR Safety has proven to be a leader in gloves, glasses, and garments. Whether it's on the shop floor, an oil rig, or construction site, MCR Safety is there providing solutions to workplace hazards. MCR Safety's 360° Protection Program helps you analyze the specific risks in your workplace and works with you to find the ideal safety solutions that fit your needs, budget, and vision for future growth. Learn more about MCR Safety at www.mcrsafety.com.
For more information about PRAB, please visit prab.com or contact us.